The Minecraft Apocalypse Mod Pack with zombies and many more enemies from the Vegetta777 and WIllyrex series,has no lag and has a good amount of mods so it can work on any computer. All auxiliary mods such as the Optifine and any that are needed are included in the pack and for a total of 25 mods.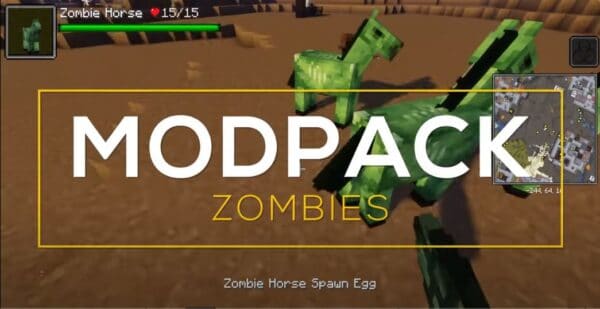 Minecraft Apocalypse Enemies Mods
Zombie Horse1.16.5: It allows zombie horses to appear normally and randomly around the world and it is very cool because they have never been inside Minecraft and have finally been introduced thanks to this mod.
Mob sunscreen 1.16.5: This mod makes zombie enemies and skeletons undesailed by the sun, so they can appear during the day and chase us everywhere.
Desolation 1.16.5: It mainly adds a darker biome and with some super rare enemies. The goal is to get a heart of cinder soul, with this we will have for a minute and a half resistance 3, speed 2, jump 1 and also will not give us a negative buff. The mods of atmosphere and biomes mix perfectly, this mod also adds a couple of decoration things.
Zombie EXTREME 1.16.5: This mod will add all the main monsters in our pack. With all kinds of completely random zombies. Zombies that crawl on the ground with half a body, others that are gigantic, others super rare and some, even, that explode. This mod also adds some soldiers who will defend us and who will appear around randomly. It also adds some very strange bosses that are super strong because they take away seven hearts in one fell swoop and are formed as if by several zombies absorbed and gathered into a mega monster.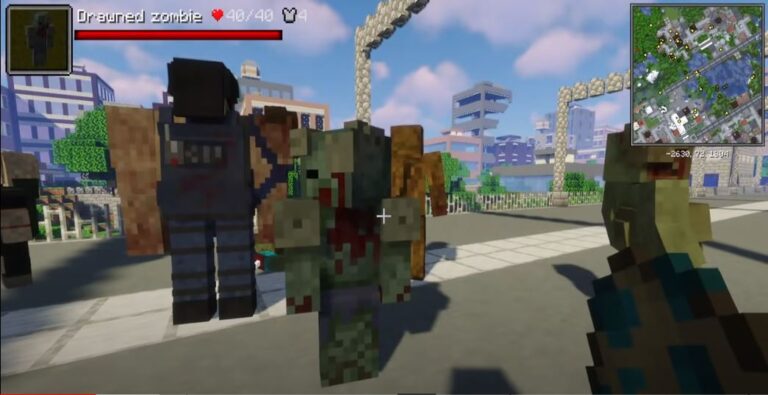 Weapons and defense systems for the Apocalypse
Security Craft 1.16.5: What this mod does is put many ways to defend our house along with security cameras, authenticators, armored doors and even has automated defense systems such as grenades that fly out in the air if they detect an enemy nearby.
Crafting Dead 1.16.5: This mod has a giant section of weapons of all types that exist in real life and have put them inside Minecraft. All the weapons included can be upgraded bullets, targeted, larger magazines and different things apart. In addition, when we hit an enemy a small "X" comes out to know if we have given it or not and this is super cool because it used to appear in some old video games.
This mod also brings things of other types such as costumes that we can put on and become military and even put things to heal and regenerate.
Zombie EXTREME 1.16.5: This mod gets us an incredible section of food and survival things that you will see because it mixes with some generation of the world and even, it gets some vaccines with which we can save ourselves from all the enemies that touch us because with this mod, if an enemy touches us we can end up infected and infect the villagers. It also includes some cool weapons such as a saw and a mega hammer to cover the skulls of the zombies there.
World Exploration
Zombie EXTREME 1.16.5: It gets a pretty cool biome, where you're going to generate random houses and stuff that's going to be equipped with a lot of survival loot. There will always be some food or some looting that you did not expect. There is radiation in this biome and it is a bit dangerous, it is like a desolate area and you have to put on a suit to be inside the biome.
Tissous Zombie 1.16.5: All the effects mods are also going to be included within this modpack, such as Dynamics surroundings, and what they do is set up all the way around it. I even have a texture pack for all the zombies. With Tissous Zombie you can see that all the zombies are going to be generated different and have bright eyes, and at night they are much scarier!
Stoneholm 1.16.5: Stoneholm adds a new underground civilization of villagers protected by Iron Golems. In addition, it has immense corridors it is as if they had built an anti-zombie apocalypse bunker. We can get in and steal all the resources since they will not tell us anything but be very careful because it is full of Iron Golems and if you give one they will all come for you.
Lost Cities 1.16.5: This mod creates these city biomes and we can configure them. We're going to be able to make giant or small cities, whatever you want. You can put them to mix with the normal biomes of Minecraft or everyone is only of this biome.
Mods they use in the series that are useful
Toro Health 1.16.5: This type of mod is useful to see the life of enemies how much damage our weapons do to them, how much we are taking from them, what armor you have and how much life they have left. The toro health indicator works very well with all the other mods in this pack.
Xaeros Minimap 1.16.5: I have included this mod because it can be moved all over the screen. The Xaeros Minimap can be put wherever you want and in this way it does not obstruct the Toro Health Indicator, which is the mod to see life.
Trav backpack 1.16.5: This is one of favorite mods since you can fill lava, water and put several items in the backpack that you can change directly from the inventory without opening the backpack. You can put the backpack on the floor in case you want to have different types and equip it quickly.
How to Download and Install Minecraft Apocalypse Mod Pack for Minecraft for Minecraft 1.16.5?
Download the ".zip" file of Minecraft Apocalypse Mod Pack for Minecraft from the official links (below you have them)
You must have Forge installed for the corresponding version
Extract mods from folder with winrar or any other program
Open the windows search engine and enter %appdata%
Here you will find the ".minecraft" folder, enter it
Then here look for the folder "mods"
Once found, that's where the mods go to put the ".jar" there.
Now you just have to select the version of Forge you want and open Minecraft
Something You Should Know (CopyRight):
– We only use Official Links of the Authors, they are 100% Safe.
– We do not modify or add any extras to any of the files.
– All Mods, Textures, Shaders and contents are not hosted on our server.