FABRIC INSTALLER for Minecraft 1.19 and earlier, Fabric is a modloader, which basically means that it is in charge of making your Minecraft recognize the mods and make them work perfectly, without modloader you will not be able to use mods.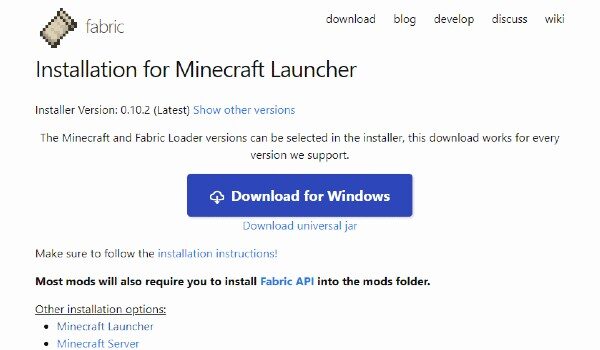 Fabric Modloader and Fabric API for Minecraft
Everyone knows the famous modloader called "Forge" but this is a much lighter alternative which makes it produce less lag, however the number of mods that there are for fabric is very small compared to that of forge, but if your pc is not very powerful this is your ideal modloader.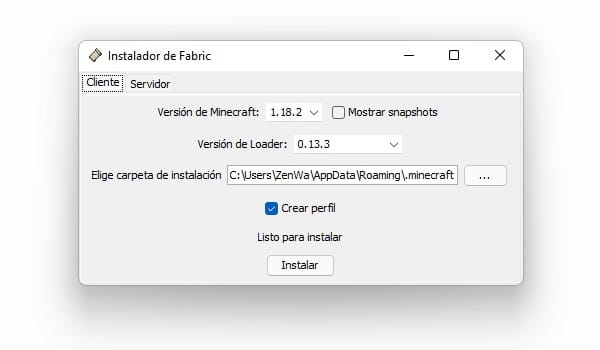 How to Download and Install a Mod for Minecraft 1.19 and other versions?
Go to the download link to enter the official website of fabric
Click where it says "Download for windows" If you use another click on "Download universal"
Open the file that will have been downloaded to you
Select the version you want to install
Click on "install"
Done, all that remains is to select the fabric profile that will have been created in your launcher
It is also very important to have the Fabric API installed (put it in the "mods" folder)
Play!
Something You Should Know (CopyRight):
– We only use Official Links of the Authors, they are 100% Safe.
– We do not modify or add any extras to any of the files.
– All Mods, Textures, Shaders and contents are not hosted on our server.
Download FABRIC INSTALLER version 1.19 and 1.18.2 for Minecraft
It is very important that you know the following: Forge mods do NOT work in Fabric or vice versa and all fabric mods need the Fabric API to work, that said all that remains is that you enjoy all the available mods that are for fabric.
If you are someone who also uses the optifine; to use it next to the fabric you have to install an additional mod, click here to go see that mod.
Click on the following buttons to download Fabric

Autor de este articulo (NO del mod): Soy Sr Madera, un pequeño youtuber, me gusta hacer review de mods 😀 desde pequeño he jugado a esto, lo deje un tiempo pero aca estoy de nuevo en este maravilloso juego!