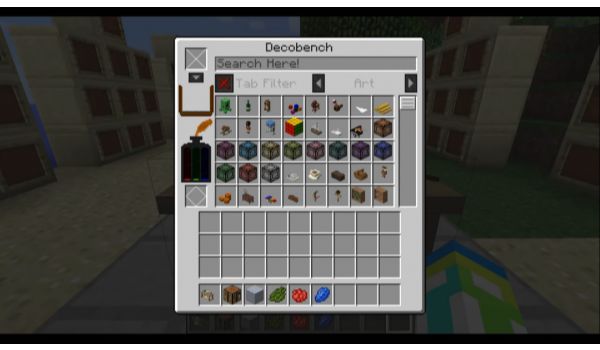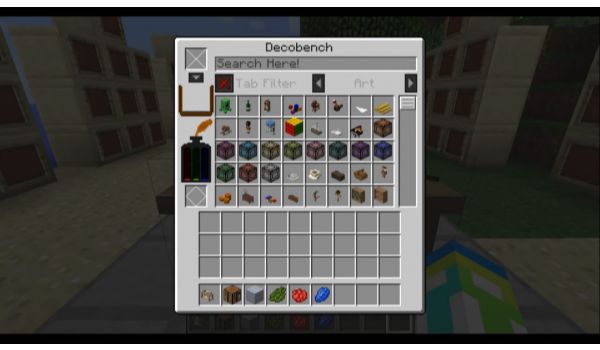 The best decorations mod for all minecraft install and download
A mod of decoration and aesthetics for Minecraft
With the mod Decocraft for minecraft 1.12.2 you do not need to learn 80 thousand crafteos, you can download and install it here, because it has 50 million things to create, so they have made our work easier and what they have done is concentrate everything in a single crafting table.
How to craft in decocraft mod Minecraft?
That which you need to create the crafting table are three colorines: blue, red and green and if you do not know how to create the table, then I explain it because it is very simple: you take the crafting of the table and place it in the center between the colorines around. Another way to make the crafting table it is practically the same with three other colorines but the originals, with its crafting table and with clay (clay) below, cactus green on the left, with one of red above and with a lapis lazuli on the right; and these are the two ways to craft the Decocraft table.
Don't know how each color is created? because red is created with earth, sand and red. The blue color is created with earth, sand and the color blue; and the color green is created with soil, sand and the color green, simple as that.
How does the decocraft mod crafting table work?
I'm going to show you how this crafting table works: the first thing is to take a little of the three types of colorines, then you go to the crafting table and you hit the right button of the crafting table and the next thing you are going to do is put the colorines, dragging them to the crafting panel and you click on the little strap below that says ADD TO TABLE.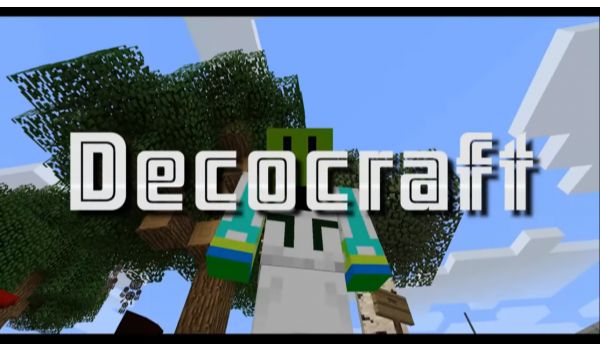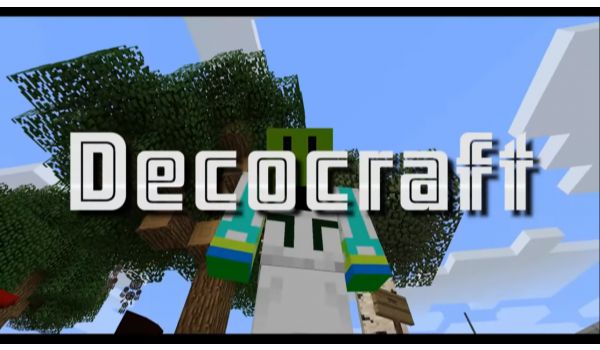 The ink will be recharged in these tanks of the panel and if there is a deposit for each color: red, green and blue. You click on the little strap again and you will see how one of the deposits is loaded a little bit and now it lets us choose any type of crafting, with this table you can get all the items of this mod decoration and you can also directly put the name of the item you are looking for or filter by type.
How many furniture and types of decoration does decocraft mod have?
This mod has more than 2000 types of props that are like Minecraft decoration extras and all the objects you put will be placed as in 3D form and brings a lot of things.
What does this mod bring in art? because it brings, among other things, a piano, a stool and some objects with which you can interact the drums, in which you can sit and you get a little buggy. You can sit on the stools too. You have a lot of chests, other instruments that you can play, etc. and you can click on the right button to test the objects.
There are some super weird little things, like a ballerina in a box, a canvas with a mega drawing of Minecraft, a super old camera, and other paintings.
Bathroom decorations for decocraft
What brings you for the bathroom? you have toilet paper or wipes, large towels, small towels, a bathroom, pipes, faucets, shower, toothbrush, an unclogging machine, bathtub, a jacuzzi, urinals and to wash your hands.
Room decorations for decocraft
The mod brings you to room a crib for a baby, a brush, a mirror, a sewing machine, a rose in a glass, a wedding ring, a perfume, a bed, a bedside table, a flying bed table, an upside-down bedside table, a dream catcher, a straw bed, curtains, you can interact with all the blocks that this mod adds and discover which ones let you access these options.
You also have a lot of miscellaneous things: a bone, such dangerous fences, cement fences, garbage containers of all colors, traffic cones, a mega barrier of these from the garages and different pots for plants.
Lighting decorations
In lighting we have different types of candles, lamps, a lava lamp, we have different things to put on the wall like a moon, a sun, more lamps, a mega chandelier, a wall fan, another huge mega lamp and a smaller lamppost.
In cooking, it brings you the kitchen of stoves, boxes of different types of food, apples, lobsters, sardines, mega fish, sacks of rice, sacks of flour, bread we have, cake, a shopping cart, cookies and a cash register.
In decoration of the common room brings you a spinning wheel, a cuckoo bird, a hanger, a hanger, a glass table, a super tiny chair, a boat to put flowers, a board that can be put on the walls, a bear skin to be able to step on, more chairs, a fish tank, fire, the tools that go next to the fire of a fireplace, where to leave the umbrellas, a complete tv set up with its dvDs, books, controller, mini cactus, huge armchairs and more huge tables.
In storage you have many items that can be opened and filled with little things, such as boxes, kegs, beer keg, train luggage, safe
And finally, in toys he brings you a swing, a rubik's cube, for a small house and there is a complete section that are the Patreon dolls, and these are dolls of the people who have contributed in Patreon to the Minecraft mod.
This decoration mod is the most complete I've ever seen and brings a lot of crazy things!
How to install Decocraft mod for Minecraft?
Download Decocraft mod for Minecraft
For version 1.12.2 you need PTR LIB too
Have FORGE installed
Open the windows search engine and enter %appdata%
Go to the .minecraft folder
Inside look for the mods folder
Put the file you can download right here below
| ⚡️ Available Versions | 📥 Official Download Links (CurseForge) |
| --- | --- |
| Minecraft 1.12.2, 1.11.2 and 1.10.2 | Download Decocraft Mod |
Something You Should Know (CopyRight):
– We only use Official Links of the Authors, they are 100% Safe.
– We do not modify or add any extras to any of the files.
– All Mods, Textures, Shaders and contents are not hosted on our server.
Download Decocraft Mod for Minecraft
In the technology section we have a TV, a fire alarm, a laptop with the eclipse installed, a turntable, a radiator, a mini computer, different types of screen and a washing machine.
In the office you have papers, armor, stacks of coins, different types of desks, a chair, filing cabinets, other types of desks, cork walls for nailing papers, an old phone and a very cool glass table with your chair.
Click on the following button to download the Mod and its add-ons:

Conoce al Autor de este Post: Mi nombre es Kiko, llevo más de 10 años jugando a Minecraft, empecé cuándo tenía 14 años, y desde entonces no he parado. Esta web es la muestra de mi pasión sobre el universo de Minecraft, siempre he sido super fan de los Mods de Minecraft, las Texturas y los Shaders, por eso decidí crear esta web informativa para que toda el habla Hispana pudiera tener también buen contenido sobre el juego.