Brewing Canvas Texture Pack for Minecraft 1.18.1 and 1.18, adds a whole guide of the potions inside one of the paintings that we can hang at walls,with this we can easily know how to make each and every one of the potions that are inside the game.
Potion Texture Pack for Minecraft 1.18.1 and 1.18
Brewing Canvas Texture Pack is going to add a way to guide us when creating each of the potions. If you do not have much idea of making the potions, with the new painting that you can put on a wall you can guide yourself and start making potions right away.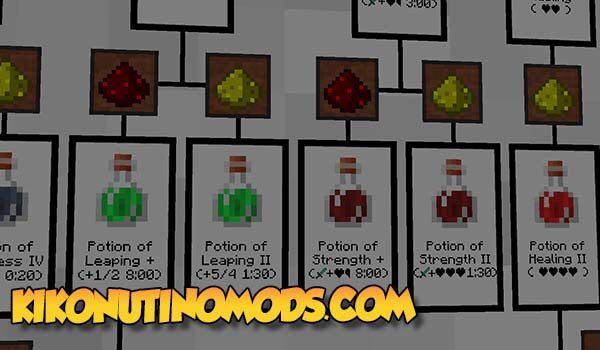 How to Download and Install a Texture Pack for Minecraft 1.18.1 and 1.18?
Download the ".zip" file of Brewing Canvas from the official links (below you have them)
Open the windows search engine and enter %appdata%
Here you will find the ".minecraft" folder, enter it
Then here look for the folder "resourcePacks"
Once found, that's where the mods go, put the ".zip" there.
Now you just have to open Minecraft, go to the options and there choose resource packs
Within this menu you will get the new texture pack added, click and it will work for you
Something You Should Know (CopyRight):
– We only use Official Links of the Authors, they are 100% Safe.
– We do not modify or add any extras to any of the files.
– All Mods, Textures, Shaders and contents are not hosted on our server.
Download Brewing Canvas Texture Pack version 1.18.1 and 1.18 for Minecraft
In this new version the latest crafting of the new Minecraft potions has been added, without hesitation it is something that takes away a huge work. Finally have at hand how all the different and expensive potions are created.
Being a texture pack do not worry that it will not affect the performance and does not replace any of your favorite paintings,so you can continue to enjoy the Minecraft decoration while having a great guide and list of potions.
Click on the following button to download the Texture Pack:
More Mods, Shaders and Textures for Minecraft 1.18

Conoce al Autor de este Post: Mi nombre es Kiko, llevo más de 10 años jugando a Minecraft, empecé cuándo tenía 14 años, y desde entonces no he parado. Esta web es la muestra de mi pasión sobre el universo de Minecraft, siempre he sido super fan de los Mods de Minecraft, las Texturas y los Shaders, por eso decidí crear esta web informativa para que toda el habla Hispana pudiera tener también buen contenido sobre el juego.