Animal Feeding Trough Mod for Minecraft 1.19 and earlier, Many times we can be so busy that it gives us laziness to feed the animals to reproduce, this mod has come to automate that whole process in an aesthetic way!
Mod of an auto-feeder for Minecraft 1.19 and earlier
Basically this mod is going to add a new "block". To begin with we must place it anywhere, then we must recharge it with food, if for example we place seed, it will attract chickens, if we place carrots it will attract pigs etc.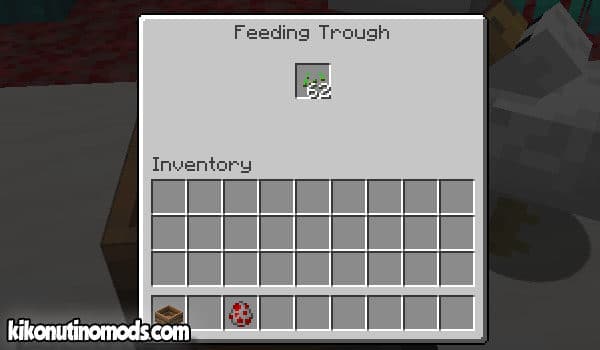 How to Download and Install a Mod for Minecraft 1.19 and other versions?
Have Forge installed (if you do not have it, click here to download it)
Download the ".zip" file of Animal Feeding Trough from the official links (below you have them)
Open the windows search engine and enter %appdata%
Here you will find the ".minecraft" folder, enter it
Then here look for the folder "mods"
Once found, that's where the mods go, put the ".zip" there.
Now you just have to open Minecraft, select the forge profile in your game launcher
Launch Minecraft and enjoy the mods you have installed!
*Important* both the mods and the Fabric must be for the same version!.
Something You Should Know (CopyRight):
– We only use Official Links of the Authors, they are 100% Safe.
– We do not modify or add any extras to any of the files.
– All Mods, Textures, Shaders and contents are not hosted on our server.
Download Animal Feeding Trough Mod version 1.19 and 1.18.2 for Minecraft
If it attracts 2 animals and these are fed, they will reproduce automatically, this mod could help you make automated mob farms because the moment the mobs can eat again, they will return and reproduce again.
The positive part is that the mod adds support for mobs added by mods, so if it meets the requirements, you could make a farm with them!
Click on the following button to download the Mod and its add-ons:

Autor de este articulo (NO del mod): Soy Sr Madera, un pequeño youtuber, me gusta hacer review de mods 😀 desde pequeño he jugado a esto, lo deje un tiempo pero aca estoy de nuevo en este maravilloso juego!