World Of Harry Potter Mod para Minecraft 1.18.1 y 1.18.2, Todos conocemos la famosa saga de peliculas de harry potter, este mini mod que esta en fase de desarrollo trata de traer al juego la magia y las criaturas de harry potter para empezar debemos craftear la hoja de hechizos.
Mod de harry potter para Minecraft 1.18.1 y 1.18
Al tener la hoja de hechizos en nuestro inventario vamos a poder presionar a tecla "B" por defecto, esto para que se nos abra la hoja de hechizos junto con una nueva barra, en la hoja se muestran los hechizos disponibles hasta ahora y para usarlas debemos tener también la varita en el inventario.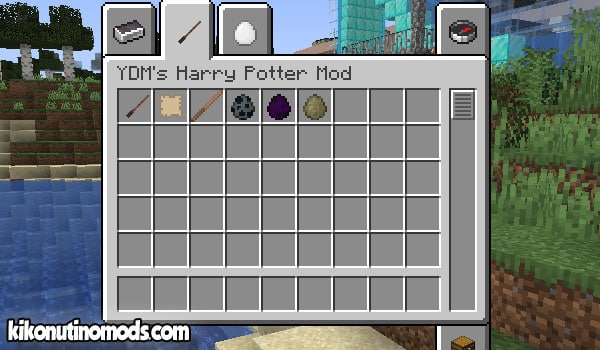 ¿Cómo Descargar e Instalar un Mod para Minecraft 1.18.1 y 1.18?
Tener instalado Forge (si no lo tienes, click aqui para ir a descargarlo)
Bajar el archivo ".zip" de World Of Harry Potter de los enlaces oficiales (abajo los tienes)
Abre el buscador de windows y pon %appdata%
Aquí encontrarás la carpeta ".minecraft", entra en ella
Después aquí busca la carpeta "mods"
Una vez encontrada, ahí es dónde van los mods mete el ".zip" ahí
Ahora sólo tienes que abrir Minecraft, seleccionar el perfil de forge en tu launcher del juego
Iniciar Minecraft y disfrutar de los mods que hayas instalado!
Algo Que Deberías Saber (CopyRight):
– Solamente utilizamos links Oficiales de los Autores, son 100% Seguros.
– No modificamos ni añadimos ningún extra a ninguno de los archivos.
– Todos los Mods, Texturas, Shaders y contenidos no están hosteados en nuestro servidor.
Descargar World Of Harry Potter Mod versión 1.18.1 y 1.18.2 para Minecraft
Luego solo tendras que arrastrar ese hechizo a la barra del inventario nueva, luego ya podemos dar click derecho para lanzar ese hechizo, ten en cuenta que el mod esta en work in progress por lo que puede haber bugs en la magia o en el comportamiento de las criaturas.
Unas de las criaturas famosas que este mod agrega son los dementores y los trolls, obviamente son hostiles pero no tan poderosos como aparentan.
Haz click en el siguiente botón para poder descargar el Mod y sus complementos:
Más Mods, Shaders y Texturas para Minecraft 1.18

Autor de este articulo (NO del mod): Soy Sr Madera, un pequeño youtuber, me gusta hacer review de mods 😀 desde pequeño he jugado a esto, lo deje un tiempo pero aca estoy de nuevo en este maravilloso juego!