More Totems Of Undying Mod para Minecraft 1.18.1 y 1.18.2, Ya todos sabemos para que funcionan los tipicos totems de la muerte en Minecraft, pero este mod nos va a agregar mas variantes de estos para que ademas de salvarnos, nos den efectos especiales durante un rato.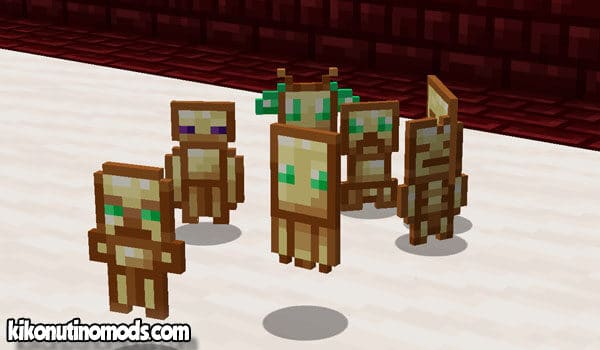 Mod de mas totems para Minecraft 1.18.1 y 1.18.2
Tenemos 7 nuevos totems con forma de mobs de Minecraft que nos salvaran la vida y nos daran efectos, por ejemplo el de forma de abeja, cuando muramos aparecen un monton de abejas atacando a la entidad que nos aniquiló en primer lugar.
¿Cómo Descargar e Instalar un Mod para Minecraft 1.18.1 y 1.18?
Tener instalado Fabric (si no lo tienes, click aqui para ir a descargarlo)
Bajar el archivo ".zip" de More Totems Of Undying de los enlaces oficiales (abajo los tienes)
Abre el buscador de windows y pon %appdata%
Aquí encontrarás la carpeta ".minecraft", entra en ella
Después aquí busca la carpeta "mods"
Una vez encontrada, ahí es dónde van los mods mete el ".zip" ahí
Ahora sólo tienes que abrir Minecraft, seleccionar el perfil de fabric en tu launcher del juego
Iniciar Minecraft y disfrutar de los mods que hayas instalado!
Algo Que Deberías Saber (CopyRight):
– Solamente utilizamos links Oficiales de los Autores, son 100% Seguros.
– No modificamos ni añadimos ningún extra a ninguno de los archivos.
– Todos los Mods, Texturas, Shaders y contenidos no están hosteados en nuestro servidor.
Descargar More Totems Of Undying Mod versión 1.18.1 y 1.18.2 para Minecraft
El que tiene forma de enderman nos tele-transportara lejos de la entidad que nos aniquiló, el de ghast nos hara levitar un rato, el de esqueleto solo nos da el efecto de velocidad, el de calamar nos da habilidades para estar tranquilo en el agua y el de creeper hara que explote nuestro alrededor.
Aparte de estas habilidades, tambien tendremos efectos como regeneracion y resistencia cuando los usemos. Es un mini mod de esos que no rompe Minecraft.
Haz click en el siguiente botón para poder descargar el Mod y sus complementos:
Más Mods, Shaders y Texturas para Minecraft 1.18

Autor de este articulo (NO del mod): Soy Sr Madera, un pequeño youtuber, me gusta hacer review de mods 😀 desde pequeño he jugado a esto, lo deje un tiempo pero aca estoy de nuevo en este maravilloso juego!