Age of Weapons Mod para Minecraft 1.19.3, 1.19.2 y 1.19, Este es uno de esos mods que no puede faltar en un modpack, las típicas espadas del juego están muy gastadas y este mod va a refrescar ese aspecto del juego, agregándote muchas más armas!.
Mod de armas para Minecraft 1.19.3, 1.19.2 y 1.19
Este mod agrega varias pestañas en el creativo categorizando todos los tipos de armas que te agrega, hay muchas armas con diferentes diseños muy buenos y que encajan con el estilo de Minecraft Vanilla, tenemos martillos de guerras, dagas, lanzas etc.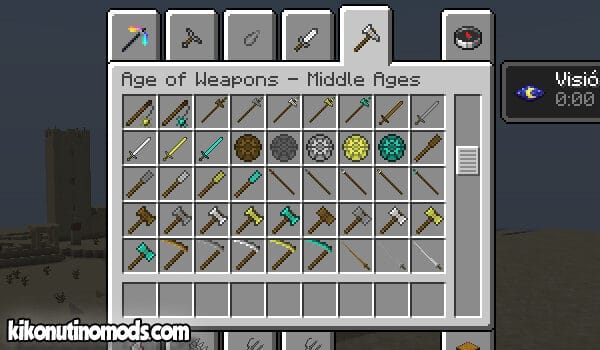 ¿Cómo Descargar e Instalar un Mod para Minecraft 1.19.3, 1.19.2 y 1.19? (FORGE/FABRIC/QUILT)
Tener instalado Forge / Fabric / Quilt (elige el cargador de mods adecuado a la versión del mod que vas a descargar)
Bajar el archivo «.jar» de Age of Weapons de los enlaces oficiales (más abajo los tienes)
Abre el buscador de windows y pon %appdata%
Aquí encontrarás la carpeta «.minecraft», entra en ella
Después aquí busca la carpeta «mods»
Una vez encontrada, mete el mod «.jar» descargado ahí
Ahora sólo tienes que abrir Minecraft, seleccionar el perfil de Forge / Fabric / Quilt en tu Launcher del juego (según la versión descargada del mod)
Iniciar Minecraft y disfrutar de los mods que hayas instalado!
Algo Que Deberías Saber (CopyRight):
– Solamente utilizamos links Oficiales de los Autores, son 100% Seguros.
– No modificamos ni añadimos ningún extra a ninguno de los archivos.
– Todos los Mods, Texturas, Shaders y contenidos no están hosteados en nuestro servidor.
Descargar Age of Weapons Mod versión 1.19.3, 1.19.2 y 1.19 para Minecraft
Ademas de agregarte nuevas armas, tambien te agrega nuevos escudos que pueden ser creados a partir de todos los materiales del juego como lo son madera, hierro, diamante, etc (esto aplica tambien para las armas). Todas tienen caracteristicas distintas.
Es un mini mod que no está demas tener si tienes un modpack de combate o simplemente te aburriste de lo que ya existe por defecto en el juego.
Haz click en el siguiente botón para poder descargar el Mod y sus complementos:

Autor de este articulo (NO del mod): Soy Sr Madera, un pequeño youtuber, me gusta hacer review de mods 😀 desde pequeño he jugado a esto, lo deje un tiempo pero aca estoy de nuevo en este maravilloso juego!