Simple Hearts mod for Minecraft 1.16.5,give us a number of hearts which give us when defeating mobs, we have 4 and a special soup. Gray hearts take hearts off the bar of life, normal hearts give us an extra but limited heart, it means that if we die we lose it. The two extra hearts will give us hearts and be unlimited.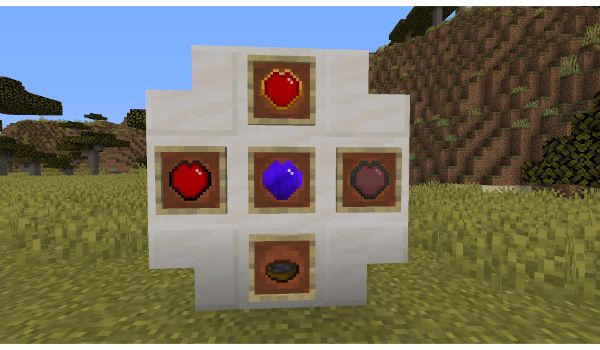 An armor and tools especially from the NDT for your Minecraft 1.16.5
Simple Hearts brings a variety of hearts which will give us one more point of health, so take advantage of killing mobs, turn them into red hearts and you will be the person with more life in the world of minecraft.
How to Download and Install a Mod for Minecraft 1.16.5?
Download the Simple Hearts ".zip" file from the official links (below)
Open the windows search engine and enter %appdata%
Here you will find the ".minecraft" folder, enter it
Then here look for the folder "resourcePacks"
Once found, that's where the mods go, put the ".zip" there.
Now you just have to open Minecraft, go to the options and there choose resource packs
Within this menu you will get the new texture pack added, click and it will work for you
Something You Should Know (CopyRight):
– We only use Official Links of the Authors, they are 100% Safe.
– We do not modify or add any extras to any of the files.
– All Mods, Textures, Shaders and contents are not hosted on our server.
Download Simple Hearts Mod version 1.16.5 for Minecraft
With this mod you can have more life, so you can not let it go, get your red hearts and be the person with more health points you have seen! Be stronger than the dragon of the end!
This is a mod for minecraft, remember that you have to have Forge installed, that said, enjoy the best mods to see life in Minecraft!
Click on the following button to download the Mod:
Mods, Shaders and Textures for Minecraft 1.18

Conoce al Autor de este Post: Buenas! Soy Smader! Soy un pro de Minecraft que le encanta compartir todo tipo de tips, trucos y construcciones sobre el juego. Gracias a que llevo más de 10 años jugando, estoy ahora formando parte de este gran equipo de profesionales del Minecraft. Me dedico actualmente a subir vídeos a youtube y compartir todas las novedades de Mods, Shaders y Texturas en esta web, tengo un canal de youtube llamado Smader10 por si quieres saber algo más de mi, saludos!