Neapolitan Mod for Minecraft 1.18,is an incredible mod that adds all kinds of food and some animals related to the tropical savannah. From bananas with their respective slippery effects to monkeys and even food utensils.
Tropical Food and Animals for Minecraft 1.18
Monkeys, banana spiders and many types of strange foods,this is what this mod mainly adds, includes a variety of new fruits to try. We can even throw the bananas to the ground and they will be stuck, if you step on them take care that you are going to slip!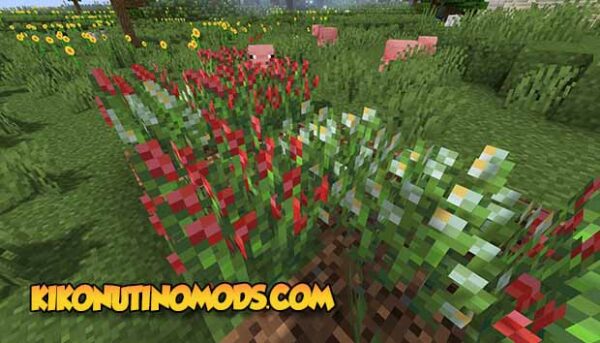 It also has new crops and different fruit trees, these trees will automatically appear in our world as we move forward, who knows how to know from the first day you find a banana tree. The fact is that this mod gives a lot of summer atmosphere to Minecraft.
We can tell you that we have tried it beforehand and it works, below we are going to leave you some photos for you to see and a video where the mod comes out, greetings! And you have the links below! Hopefully you like it!
How to Install Neapolitan Mod For Minecraft 1.18
Download the .jar file of the Neapolitan mod, below you have the links
You must have Forge installed
Open the windows search engine and put %appdata%
Go to the .minecraft folder
Inside look for the mods folder (if it does not come out, create it)
Put the mod's .jar file in there
Select the Minecraft installation that has Forge installed and run Minecraft
Available Versions
Official Downloads
Minecraft 1.18
Download Neapolitan Mod 1.18
SOON…
Forge 1.18
Download Forge 1.18
Mod Creator
TeamAbnormals
Something You Should Know:
– We only use Official Links of the Authors, they are 100% Safe.
– We do not modify or add any extras to any of the files.
– All Mods, Textures, Shaders and contents are not hosted on our server.

Conoce al Autor de este Post: Buenas! Soy Smader! Soy un pro de Minecraft que le encanta compartir todo tipo de tips, trucos y construcciones sobre el juego. Gracias a que llevo más de 10 años jugando, estoy ahora formando parte de este gran equipo de profesionales del Minecraft. Me dedico actualmente a subir vídeos a youtube y compartir todas las novedades de Mods, Shaders y Texturas en esta web, tengo un canal de youtube llamado Smader10 por si quieres saber algo más de mi, saludos!