Inventory HUD+ a mod that adds information on the screen for Minecraft 1.18!
Inventory HUD+ mod for Minecraft 1.18. This fantastic mod is one of those that could be considered essential within your modpack. It focuses on adding a lot of useful information to your game. It is also highly customizable so that you can have it totally to your liking or so that it can work perfectly with other mods that add another type of interface on your screen.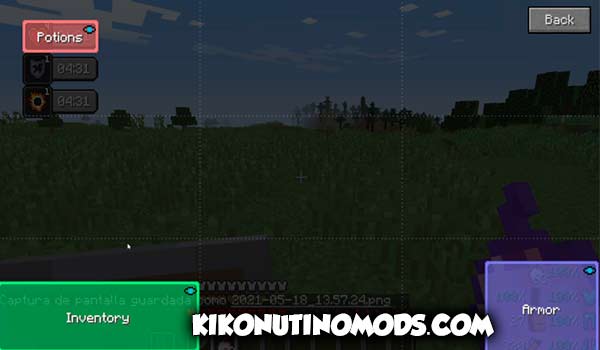 CHARACTERISTICS
InventoryHUD: Allows you to view your inventory while you are playing. You can change the size and you can put it in a much smaller way so that it bothers you much less, put it vertically or horizontally and also change the transparency of the background.
PotionHUD: Now the potion effects will appear in a much more attractive and precise way. You can change the way in which the remaining time of the effect is displayed by a timer or a bar, change the space between effects, put it vertically or horizontally and of course modify the transparency of the background.
ArmorHUD: It will show the durability of the object you have in your hand, of all your armor, also a count of free spaces, arrows and totems. Like the other features in fully customizable being possible to change the size and put and remove any data.
Finally you could change the position of each of these elements and put them anywhere on the screen, as well as remove and add at all times what you want.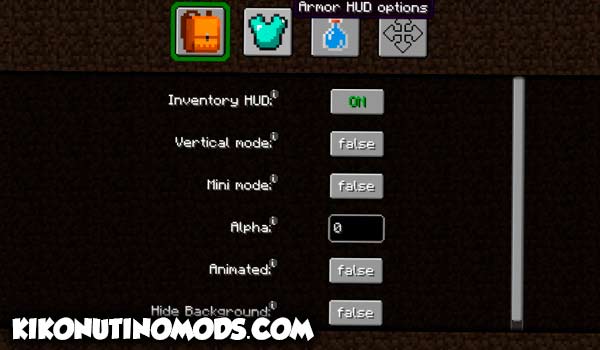 HOW TO CONFIGURE THE MOD
The truth is that setting up this wonderful mod is really easy, it has a fantastic very intuitive guide. First of all you have to go to controls and then look for the section of this mod and thus be able to configure a key that will serve to open the configuration menu of the mod. By default there will be the "O" key although you can change it to your liking. In that menu will be absolutely everything you can change and it is as simple as trying the functions until you leave it to your liking.
Here is a review of the mod by Zoku and Xiri :
Remember to install JEI to see all the crafteos of any mod. (Click here to download)
Remember that to be able to play with the best Minecraft shaders you always need to have installed Forge and Optifine at the same time to be able to run them, and certainly if you want try other types of shaders you can go through our super list with the most epic shaders that exist here ! Enjoy this mod to the fullest with optifine !
How to install Inventory HUD+
Download the .jar file of Inventory HUD+, below you have the links
You must have Fabric installed
Open the windows search engine and put %appdata%
Go to the .minecraft folder
Inside look for the mods folder
Put the aforementioned .jar file inside this folder
Select the Minecraft installation that has Forge installed and ready
If you have any problems with the installation, let us help you, send us all the information you can in the comments section. We will get back to you as quickly as possible!
Something You Should Know:
– We only use Official Links of the Authors, they are 100% Safe.
– We do not modify or add any extras to any of the files.
– All Mods, Textures, Shaders and contents are not hosted on our server.

Conoce al Autor de este Post: Buenas! Somos Zoku y Xiri, somos unos chicos que nos encanta Minecraft, llevamos jugándolo más de 6 años. Decidimos entrar a formar parte de la comunidad Kikonutino para dar soporte a todos los hispano hablantes que están en esta gran parte del mundo y que disfrutan muchísimo jugando con Mods, Shaders y Texturas de Minecraft. De verdad creemos que Minecraft es el mejor juego que ha existido, estamos siempre jugando con subs y mucho más! Nos puedes seguir en nuestro canal de Youtube si quieres! Se llama ZokuyXiri! Saludos!