Inventory HUD+ mod for Minecraft 1.19.4, 1.19.3, 1.19.2 and 1.19. This fantastic mod is one of those that could be considered essential within your modpack. It focuses on adding a lot of useful information to your game. In addition, it is highly customizable so that you can have it totally to your liking or so that it can work perfectly with other mods that add another type of interface on your screen.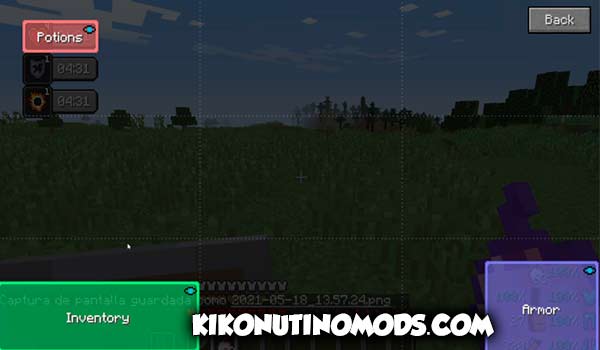 On-screen information mod for Minecraft 1.19.4, 1.19.3, 1.19.2, and 1.19
It allows you to view your inventory while you're playing. You can resize it and you can put it As you want, in a much smaller way so that it bothers you much less, put it vertically or horizontally and also change the transparency of the background.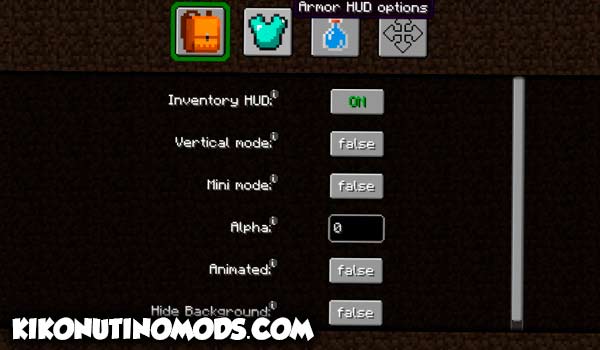 How to Download and Install a Mod for Minecraft 1.19.4, 1.19.3, 1.19.2 and 1.19? (FORGE/FABRIC/QUILT)
HaveForge /Fabric / Quilt installed (choose the mod loader appropriate for the version of the mod you are downloading)
Download theInventory HUD+ ".jar" file from the official links (below you have them)
Open the windows search engine and enter %appdata%
Here you will find the folder ".minecraft", enter it
Then here look for the folder "mods"
Once found, put the downloaded ".jar" mod in there
Now you just have to open Minecraft, select the Forge / Fabric / Quilt profile in your game Launcher (depending on the downloaded version of the mod)
Launch Minecraft and enjoy the mods you have installed!
Something You Should Know:
– We only use Official Author Links, they are 100% Safe.
– We do not modify or add any extras to any of the files.
– All Mods, Textures, Shaders and contents are not hosted on our server.
Download Inventory Hud+ Mod Version 1.19.3, 1.19.2 and 1.19 for Minecraft
In this version very epic configurations have appeared as PotionHub, we can see the potions also on the screen, Now the potion effects will appear in a much more attractive and precise way.
You can change the way the remaining time of the effect is displayed for a timer or a bar, changethe space between effects, put it vertically or horizontally and of course modify the transparency of the background.
Click on the following button to download the Mod:
Download Inventory Hud+ Mod Version 1.19.4 for Minecraft
The new version of Inventory Hud+ Mod for Minecraft 1.19.4 comes with several improvements and tweaks that enhance the player's gaming experience. Among the most outstanding novelties are the correction of some minor errors that had been detected in previous versions of the mod.
The mod's user interface has also been improved, making it more intuitive and easier to use, allowing players to customize the way their inventory is displayed and resize health and armor bars according to their preferences.
Click on the following button to download Inventory Hud+ 1.19.4:
HOW TO CONFIGURE INVENTORY HUD+ FOR MINECRAFT 1.19.4, 1.19.3, 1.19.2 and 1.19
The truth is that setting up this wonderful mod is really easy, it has a fantastic very intuitive GUI. First of all you have to go to controls and then look for the section of this mod.
So you can configure a key that will serve to open the mod configuration menu. By default there will be the "O" key although you can change it to your liking.
In that menu will be absolutely everything you can change and it is as simple as trying the functions until you leave it to your liking.

Conoce al Autor de este Post: Buenas! Somos Zoku y Xiri, somos unos chicos que nos encanta Minecraft, llevamos jugándolo más de 6 años. Decidimos entrar a formar parte de la comunidad Kikonutino para dar soporte a todos los hispano hablantes que están en esta gran parte del mundo y que disfrutan muchísimo jugando con Mods, Shaders y Texturas de Minecraft. De verdad creemos que Minecraft es el mejor juego que ha existido, estamos siempre jugando con subs y mucho más! Nos puedes seguir en nuestro canal de Youtube si quieres! Se llama ZokuyXiri! Saludos!