Doggy Talents mod for Minecraft 1.18.1 and 1.18 , it allows us to put costumes on the dogs, adds new objects to play with them and even different ways to raise the levels. This is the best mod to improve minecraft dogs, after taming them we can start uploading different skills and much more.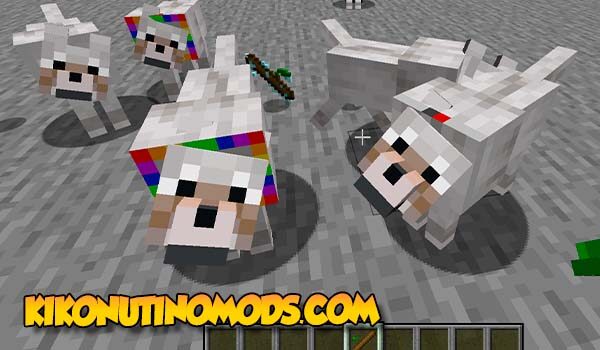 Best Dog Mod for Minecraft 1.18.1 and 1.18
Thanks to Doggy Talents making our fellow doggies within Minecraft to have all kinds of new skills and new appearances is an easy thing. We can add dresses to improve their battle points and even speed. And of course, customize them as we want with the new necklaces.
How to install Doggy Talents mod for Minecraft 1.18.1 and 1.18 ?
Download Doggy Talents mod 1.18.1 and 1.18 for Minecraft
Have Forge installed for the same version (TUTORIAL HERE)
Open the windows search engine and enter %appdata%
Go to the .minecraft folder
Inside look for the folder "mods"
Put there the mod that you can download right here below
Something You Should Know About Our Resources (CopyRight and Downloads):
– We only use Official Links of the Authors, they are 100% Safe.
– We do not modify or add any extras to any of the files.
– All Mods, Textures, Shaders and contents are not hosted on our server.
Download Doggy Talents Mod version 1.18.1 and 1.18 for Minecraft
We remind you that these mods that you are seeing are for the JAVA version,therefore they will only work with FORGE or fabric. So take a good look at the corresponding Minecraft update before installing any Mod, Texture Pack or Shader.
For example, mods for Minecraft 1.18 will only work with compatible mods for that version and will work with FORGE or FABRIC for 1.18. If it has not been clear to you, we have several Forge tutorials on the web.
Click on the following button to download the Mod:
More Mods, Shaders and Textures for Minecraft 1.18

Conoce al Autor de este Post: Mi nombre es Kiko, llevo más de 10 años jugando a Minecraft, empecé cuándo tenía 14 años, y desde entonces no he parado. Esta web es la muestra de mi pasión sobre el universo de Minecraft, siempre he sido super fan de los Mods de Minecraft, las Texturas y los Shaders, por eso decidí crear esta web informativa para que toda el habla Hispana pudiera tener también buen contenido sobre el juego.