AppleSkin mod for Minecraft 1.18,this is a very old, very famous and very useful mod that has been updated to Minecraft 1.18. A mod that has 80,000,000 downloads and what it adds is more information about food.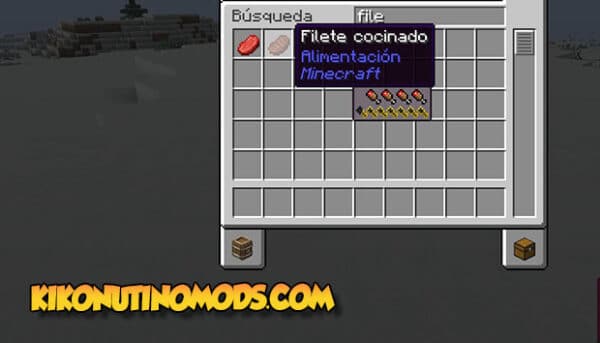 Useful Information for every meal!
For example, if you go to your inventory and pass the mouse over a meal, it will tell you the thighs that it will go up 1 unit in case you ate it and it will also tell you the saturation that comes to be the time it will take to lower the next thigh.
Now if you hold it in your hand it will mark directly on your food bar the number of thighs that will rise in a super visual way since they will be blinking. In the same way you will mark the life that will rise you but this time what will blink will be the hearts of your health bar.
And of course it will also mark the saturation surrounding the thighs with a yellow line. It will also teach you exhaustion with a gray bar behind your food bar. As you should already know, both in Minecraft and in real life if you run and jump you consume more calories and therefore go hungrier.
Well, if that gray bar will reach the end your thighs would begin to go down much faster than if that bar were loaded. Without a doubt this fantastic mod will save you a lot of food and in a way it will also help you in PvP.
How to install AppleSkin mod for Minecraft 1.18?
Download the .jar file of AppleSkin, below you have the links
You have to have Forgeinstalled, here you have a tutorial if you do not have it (always for the same version as the mod)
Open the windows search engine and put %appdata%
Go to the .minecraft folder
Inside look for the mods folder
Put the aforementioned .jar file inside this folder
Select the Minecraft installation that has Forge installed and ready
If you have any problems with the installation, let us help you, send us all the information you can in the comments section. We will get back to you as quickly as possible!
⚡️ Available versions
📥 Official Download Links (curseforge)
For Minecraft 1.18
Download
AppleSkin
1.18 *coming soon*
Forge 1.18
Download Forge 1.18
Mod Creators
squeek502
Something You Should Know:
– We only use Official Links of the Authors, they are 100% Safe.
– We do not modify or add any extras to any of the files.
– All Mods, Textures, Shaders and contents are not hosted on our server.
Download
AppleSkin
Mod version 1.18 for Minecraft
We remind you that these mods that you are seeing are for the JAVA version,therefore they will only work with FORGE or fabric. So take a good look at the corresponding Minecraft update before installing any Mod, Texture Pack or Shader.
For example, mods for Minecraft 1.18 will only work with compatible mods for that version and will work with FORGE or FABRIC for 1.18. If it has not been clear to you, we have several tutorials on the web.
Click on the following button to download the Mod:
Download
AppleSkin
Mod version 1.18 for Minecraft

Conoce al Autor de este Post: Buenas! Soy Smader! Soy un pro de Minecraft que le encanta compartir todo tipo de tips, trucos y construcciones sobre el juego. Gracias a que llevo más de 10 años jugando, estoy ahora formando parte de este gran equipo de profesionales del Minecraft. Me dedico actualmente a subir vídeos a youtube y compartir todas las novedades de Mods, Shaders y Texturas en esta web, tengo un canal de youtube llamado Smader10 por si quieres saber algo más de mi, saludos!